!*Shift linkage*!
07-Jun-2007, 11:08 AM
!*Shift linkage*!
---
I am swapping a short throw along with linkage from one vehicle to another and am having difficulty getting the linkage out of the tranny. Do i just reef on it until it breaks loose? am i missing a clip or somthing? anyone know why I cant get this linkage out of my damn trans?
07-Jun-2007, 11:29 AM
Senior Member
Join Date: Feb 2007
Posts: 227
its called a btich pin. get a small screw driver and a hammer and hammer out that little pin.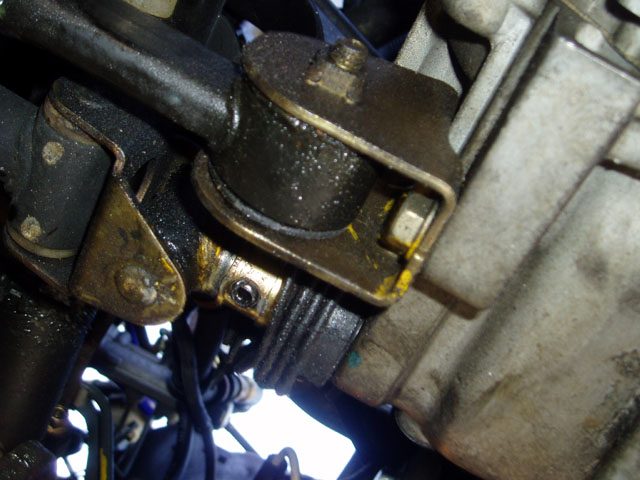 07-Jun-2007, 11:34 AM
Senior Member
Join Date: May 2003
Location: Ontario
Posts: 18,370
Make sure the pointy object that you uses is bigger than the pin hole but smaller than the linkage hole (obviously) so the pointy object can rest on the pin while you apply force to the other end to push it out. Anything smaller than the actual pin will (and most likely) go into the pin hole and cause a jam.

This pin works because it expands to apply friction in the linkage hole. Any object inside it will make it expand further which makes it even tighter to get pushed out.

You may hit your finger, so be careful.

ps. it is called a Spring Pin
07-Jun-2007, 11:59 AM
-- site donator --
Join Date: Mar 2004
Location: the hammer
Posts: 7,038
use an air chisel...works like a charm...then once you get it out as far as you can with the air chisel...grab a 8mm punch and hammer, and hammer it out the rest of the way, it'll only take 1-2 more smacks with the hammer/punch and it'll come right out.....thats the easiest way i know of removing the b!tch pin.
07-Jun-2007, 01:12 PM
Thanks for all the help trigga, Nova_Dust and zeeman. I am working the ***** out slowly but surly. RESPECT too you three.
Thread
Thread Starter
Forum
Replies
Last Post
Honda Civic (+ other) Parts/Accessories for Sale or Trade
Honda Civic Performance - JDM Discussion