Headgasket replacement(pics)
07-Aug-2006, 05:47 PM
Headgasket replacement(pics)
---
So I decided to take a stab at replacing my headgasket/headstuds today and here is my progress thusfar. Set piston 1 to tdc the old fashioned way using a long screwdriver cause the timing marks were long gone
then I made sure it was on the compression stroke by checking the dizzy to make sure the rotor was pointing to plug number 1, everything checked out so I procceded to drain coolant, oil and unplug all sensors until I got to the dizzy plug which would NOT come loose so I took the dizzy off of the head and left it in the engine bay(I know when I'm beat!). Took the charge pipes off, unbolted turbo mani from head, removed valve cover, releived tension from belt tensioner, removed belt from cam sproket, loosened head bolts in sequence according to the Haynes manual using 1/4 turns from the outside in then finally lifted head off of motor with the help of a friend. here are some pics of the head off of the motor.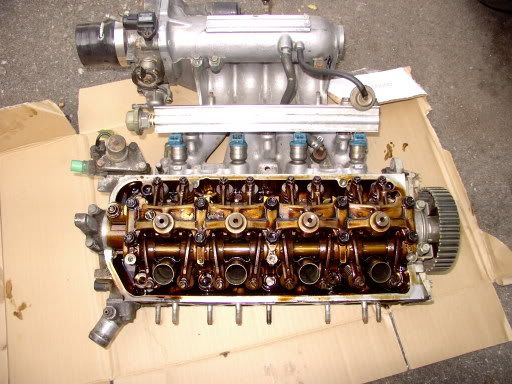 piston 4 was the leaky one causing my overheating prob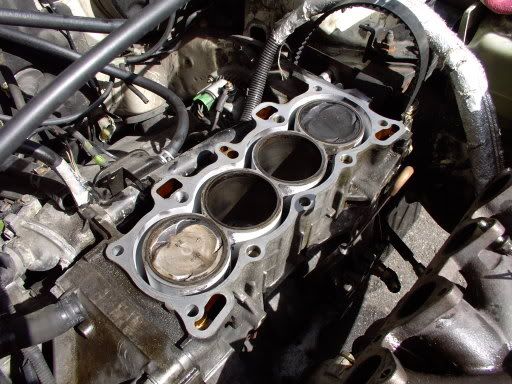 Old breached gasket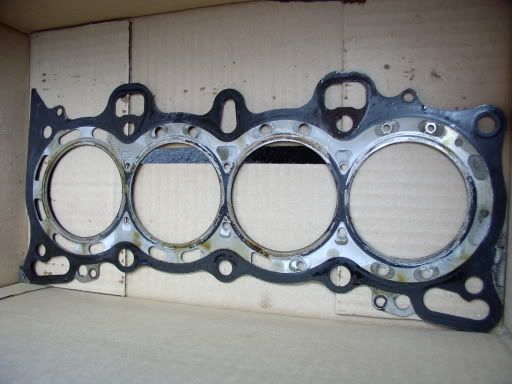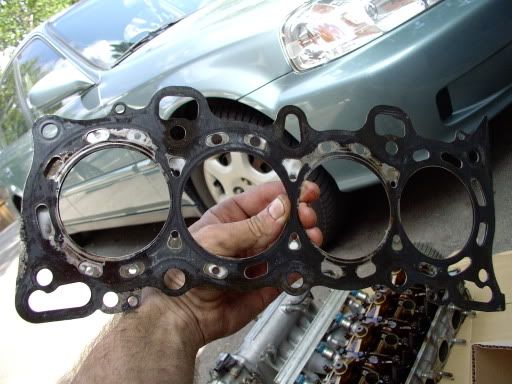 Lots of sludge in the intake mani which had a gas like smell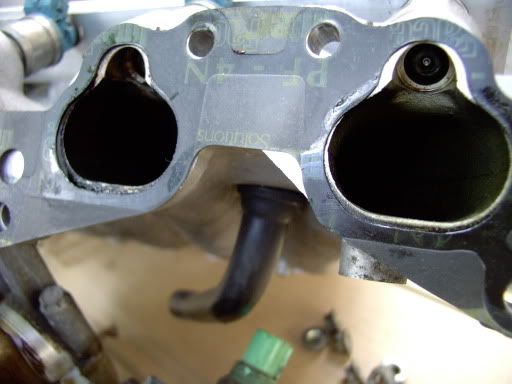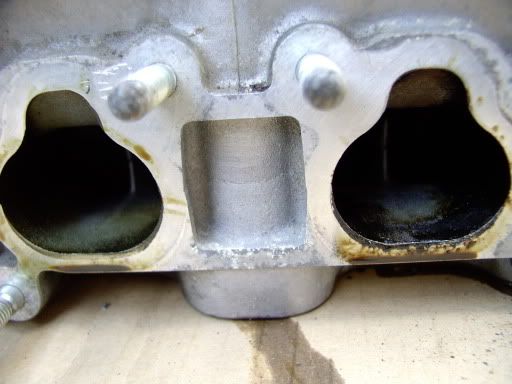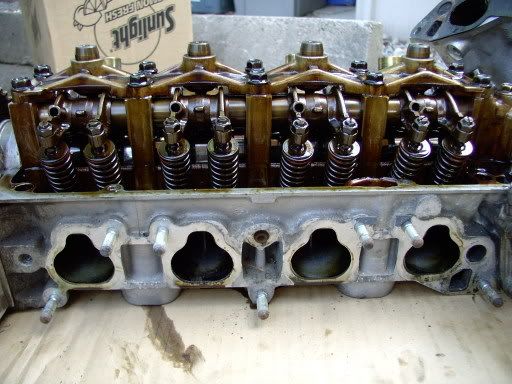 I got some oil in the water jackets so I removed the drain plug from the front of the block and flushed them clean. I also got some oil in the holes where the head bolts go which I will also have to clean or my torque reading will be way off. Tommorow the head goes out for machining then it's time to put her all back togeather. It took around 4 hours to do all of this which isn't bad considering it's my first headgasket replacement. Comments, suggestions welcome.
07-Aug-2006, 06:28 PM
Not that great. When it's cool outside she runs well but overheats quickly with boost. In the heat she runs like crap and I have to drive around with my heat balsting just to keep the temps low.
Thread
Thread Starter
Forum
Replies
Last Post
Honda Civic (+ other) Parts/Accessories for Sale or Trade
Honda Civic Performance - JDM Discussion
Honda Civic (+ other) Parts/Accessories for Sale or Trade
Honda Civic Performance - JDM Discussion